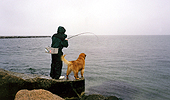 Scott Patterson battling an albie in the pouring rain while Blue looks on.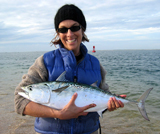 The effervescent Heidi Wilcox with her very first False Albacore (Harkers Island). Photo: Jon Benstead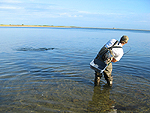 Jon Benstead about to meet his very first shore flyrod False Albacore.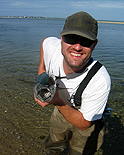 This albie is ready for a live release.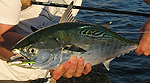 Another closeup of a New England shore 'Albacore.


Capt. Jim Ellis boats a baby bluefin tuna for Dave Skok. Note the New England shoreline in the background.


An epic day of fog, wind, rain, and bluefin tuna on Nat Moody's boat (thanks to First Light Anglers for the great day!).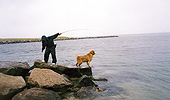 Scott Patterson gets ready to step off the jetty to land the fish.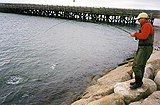 Tough guy Dave Skok slugs it out with one more shore 'core.

Success reigns over miserable failure at last.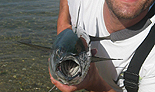 Closeup: wing-like pectoral fins allow False Albacore to fly through the water.


Let somebody else catch a few already...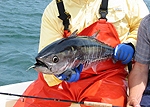 Closeup of a juvenile Bluefin Tuna.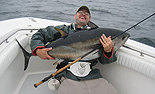 An exhausted and ecstatic ecologist gets his wish and boats a dream fish.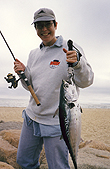 Jennifer Windram glows with the thrill of her first false albacore.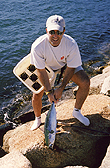 Perry Ambulos puts an albie on the rocks.


Portrait of a False Albacore. Photo: J. Benstead.


The elusive Atlantic Bonito, a prize catch for any shore angler.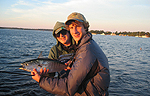 Saltwaterflies.com fly tier Blake Davis (on the right) with his first ever flyrod false albacore. Photo: J. Benstead.

Dave Skok prepares to release this baby bluefin.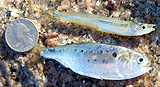 Silversides and Peanut Bunker - two favored prey items of New England Tuna species. Photo: Dr. Jon Benstead.