Home | Saltwater Flies | Fly Tying Materials | Fly Lines & Accessories
Ordering Instructions, Shipping rates, Your Satisfaction Guaranteed | Site Map
24 Hours
A Not-so-tall Fish Tale by Phil Cronin
© 2000
Photos by Chris Windram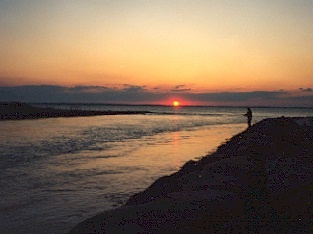 Having a house on Martha's Vineyard and not being able to get to it when you want to fish is very unnerving. You see, my house is one of those rental things; you know - either rent it to someone with lots of money or give it back to the bank. I love it too much to give it back to the bank, ergo; I rent it out. Well, I really, really love to fish. In fact I eat, sleep, and dream fishing. I hadnít got my fishiní fix for several weeks, so I figured - why not go over to the Island, check out the house, mow the lawn (good excuse, donít you think?), then grab my gear and stay overnight on the beaches. My plan was set and off I went.
I donít want to bore you with the lawn mowing part so Iíll get right to the fishing part. My adventure started at Lobsterville Beach at 4:00 PM. It was hot, the air was still, and the fish were nowhere to been seen. There were very few beachgoers and even fewer boats. My guess was that they were all scouring Philbin beach for rubble from the crash of John Kennedy Jr.'s plane. I stared at the water for about 30 minutes and saw absolutely nothing, so I decided that Lobsterville on July 27 was not the place to be, besides, everyone knows that the "bones" (bonito) donít gather in force until July 28. Before leaving, I traveled down to the jetty at Menemsha channel and found the tide was wrong and the bait among the missing. It was off to Tashmoo!
Tashmoo is one of my favorite spots and I was sure that if there were bones to be found before sunset, this was my best chance. Once again my fishing adventure was foiled by a bad tide. Water was pouring into the channel, and that meant the bait was in the pond and the fish were out to sea. After throwing a sand eel imitation about a thousand times I figured that this was not the place to be for the next six or so hours. Say goodbye to Tashmoo and hello to Eastville beach...
Anyone that wants to know where not to go an hour and a half before sunset should be directed to Eastville beach. Here is where everyone and their brother, kids, cats, and dogs go to take an evening jump in the briny before watching a halfway decent sunset. To my disbelief, there was even a woman with a parrot on her shoulder walking the shoreline. The parking lot was almost full (this makes it awfully hard to make a pit stop), there was no bait, no birds (except the parrot), and no fish - not even the chompers who normally make a beach run prior to sunset. I sat in my car contemplating what exactly was on my mind when I had formulated this plan. Hunger started to set in so it was off to Island Pizza for a taste of what had already made me a wee bit overweight. Next stop was the Little Bridge.
I wanted to wait until darkness had begun to set in before I visited the Little Bridge. In darkness, the ever present "jetski battalion" might not appear. Good fortune - no jetskis! Bad luck...A beachparty. The tide was still incoming but there were some swirls outside the channel. I was excited and wondered if the kids enjoying the party wouldnít mind moving to another location. As I drove off hastily, I noticed in the rear view that they must have thought I was Number One because several of them were signaling me to that effect. Oh well, there must be more room at the Big Bridge anyway...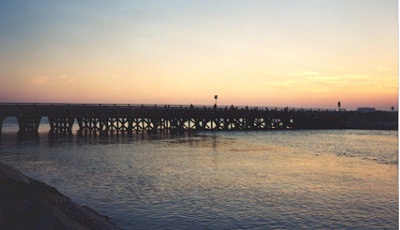 "Big Bridge" - this is where I was sure to find "Big Fish" - NOT! I talked the talk; I walked the walk. I left the wall after 30 minutes of walking the walk. No fish, no bait, no swirls. The thoughts in my mind now turned to boat schedules. I wonder if I should try to catch the next ferry home. If I did, my fantastic adventure would turn out to be a fantastic mistake. Iím not ready to give up, especially if it means facing my wife with a greeting such as "honey, youíre home, what happened to staying on the beach and fishing all night", yuk, yuk, yuk. My strength and resolve returned, Bend-in-the-Road would produce, it was, after all, Coopís "tip of the day" and Coop is never wrong...
Bend-in-the-road beach was producing fish steadily for days. I was certain to find some action there. It was the last ninety minutes of the rising tide, so I figured that some bass would be cruising the beach just looking for the arrival of my carefully hand tied imitations. Wrong again! No fish, no bait, no luck. My stamina was fading, as was my hope of landing the lunker I had spent the last two nights dreaming about. OK, I reasoned, Iíve made the State Beach run and nothing had panned out. My "secret spot" was warming up and I had held it in reserve knowing that the tide needed turning, and the darkness needed darkening. Full moon or not, the "secret spot" was now the place to visit...
"Secret spot" is a secret. The irony of it is that everyone I know who fishes a lot knows the "secret spot" and they all go there when they think no one else will be there. "Secret spot" will only handle one, maybe two flyfishermen. I have never been skunked there and it normally produces one or two good size bass, after which the fish turn finicky and the only way to raise them is with pyrotechnics. Unfortunately, I didnít have any cherry bombs and even less fortunate, as I was approaching "secret spot"; two fishermen were leaving it. One had caught a keeper and the other landed several shorts. I fished "secret spot" for the better part of two hours before I decided that this was not the place to be. As I left the worst kept secret on the Island in dismay, I glanced over at the Steamship Authority dock and grunted at the sleepy Islander, locked in its birth for the night. If it were loading for another trip, I would have definitely jumped on board and called it quits. Then, like a bolt of lightning it hit me. I hadnít visited the Outflow Pipe. The tide was right and the still of the night guaranteed fish...
The Outflow Pipe had always produced for me. One night my son and I had landed 65 fish there including several nice keepers. With a strong outgoing tide and a moonlit sky, they will be there - no question. My routine at the Outflow is to stand on the seawall and listen for the telltale sounds of fish feeding. As I stood there listening intently, an Oak Bluffs police cruiser sped by, lights flashing and siren wailing. Another one closely followed, and then an ambulance. My ears were ringing and after several minutes, my night vision and hearing returned. Fish were feeding; I saw them - I heard them. I had found my spot. It was a fast jog to the jeep and a quick assembly of gear. With waders on I made my way into the water. I donít like fishing the Outflow Pipe alone. It is an evil place where the boogieman pays his nightly visit. He usually appears inside the pipe first and then swims underwater around your feet. Every fisherman knows the boogieman. He is the ghost of the rocks. He is a haunting figure who knows your name and calls it in the eerie noise of the surf. He was calling my name repeatedly and I was too tired to ignore his taunt. On my first throw, I hooked a strong fish in the outflow channel of warm farm pond water. It was a hefty, steady fight until my line parted. I retrieved what was left of my leader only to find it had been chewed away by something - the boogieman perhaps, or a huge man eating shark! Maybe it was a giant killer squid; maybe a barracuda; maybe an electric eel. Maybe, maybe, maybe. The boogieman had me right where he wanted me; in my imagination. I was on fish, but I was too scared to remain in the boogiemanís evil lair. My imagination had the best of me, and when the ghosts come out of the rocks, that's when itís time to find another spot. I knew then that it was time to get an hour's sleep, so off I went, back to the Little Bridge where I knew I could drive out to the end of the jetty and get some very badly needed rest. Back to the Little Bridge it was, and quickly I might add, before the boogieman found out where I was going...
Driving along the East Side of the channel towards the beach, I longed for a sleep. I knew that in an hour or two, the bass would really start the predawn feed. I wanted to regain my strength and clear out my head. Another jeep must have had the same idea, because it was parked at the end of the road, too. Turning off the car I noticed that around the other jeep were two couples. They were listening to some form of music (I hesitate to describe it) and talking quite loudly. It was 3:00 AM; donít they have a home to return to? Trying to sleep in spite of the racket, I curled up on the front seat and closed my eyes. The music was too much but I was too tired to move on. Maybe I could get used to it? After about 30 minutes, one of the partygoers stumbled over to within 20 feet of my jeep. I wondered what she was doing and if she noticed how bright the night was for I could see her quite clearly. She stopped, dropped her drawers and went to the bathroom - right there in front of me. Didnít she realize that she was the main character on a lightly illuminated stage? It was ugly! Guys were not meant to watch gals go to the bathroom. I closed my eyes and tried in vain to fall asleep. The attempt at desperately needed sleep lasted about 45 minutes before I realized that sleep was not in the cards, besides it was now time for the "morning fish"; my best chance at some nice bass and perhaps a first light bonito. I was getting psyched all over again. Bend-in-the-Road beach wanted me and I wanted its bounty...
As I pulled up to Bend-in-the-Road I noticed several other trucks. I knew they were fishermen and I figured there must be fish. After gearing up I found a spot that had produced for me on many prior mornings. I tied on my favorite sand eel pattern and made a few short casts. A tug and then my line tightened. Right away I knew it was not a bass. I thought it was a fluke perhaps, or maybe a skate, or maybe a sea robin. What I didnít expect was a shark. This was a first for me - a sand shark on a fly. You have got to be kidding! How could my luck be any worse? I landed the little shark and studied it for awhile. I felt its skin, admired its snout, and finally unhooked it and watched as it slipped back into the water. After another 30 minutes or so I figured that Iíd go back over to the Big Bridge and wait for the first signs of bonito at sunrise...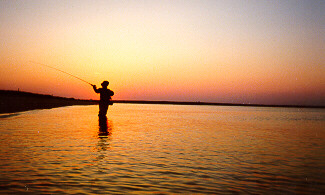 It was a beautiful sunrise. I hoped above all hope that bonito would show for me and so I sat patiently awaiting their telltale surface breaks. Nothing happened for an hour. At about 6:30 AM I noticed several people in the distance fishing along Bend-in-the-Road beach. Soon I saw three more on the beach, and then six more joined their ranks. I saw trucks stopping on the road and people running to the beach. I saw just about every small boat within several miles hastily converge on Bend-in-the-Road. I decided to beat a path for what might be a feeding frenzy! I raced back to Bend-in-the-Road beach...
As I sped down State Road I focused on the beach at Bend-in-the-Road only to see fish breaking everywhere. I jammed the car in park as I reached the parking area and grabbed my gear. Running down to the beach I realized that the fish were within casting distance, but only if you were chest deep in the water. In my haste I didnít bother to put on my waders. It was a blitz of bonito with bass mixed in. I threw with all my might, each time landing fifteen feet short of the boils. My wallet was in my pocket so I decided not to get wet, besides, I am the worldís greatest fly thrower and I could reach those busts. After each throw my enthusiasm got as tangled as my fly line. I then posed the big question: should I hustle back to the jeep and don my waders? By this time I had drifted down the beach about 200 yards from the jeep. I knew the frenzy wouldnít last long, but how long? Did I have time to return to the truck, put on my waders, and run back to the water? Sure, after all, I am the worldís fastest sprinter. I murmured "just do it" and it was off and running. I reached the jeep, threw on my waders, and sprinted, air-filled waders and all, back to the water. With the water lapping my stripping basket I threw my best shot at them before that dreadful thought hit me: they were gone. What I had spent the last 14 plus hours waiting for had slipped by me like a pollywog through a childís fingers. I had missed my best opportunity. Others on the beach had scored big. One guy had caught three bones; others had caught one or two. Most of the guys fishing had been on their way to work and just happened by the biggest bonito blitz to date. I had skipped work and a nightís sleep and relied on my carefully developed skills. I was ready to surrender to the pain and anguish of a fishless misadventure.
Slowly, painfully, I stumbled back to my fishmobile. Like a soldier returning from the battlefield, I took my gear off and threw it in the back of the jeep. It was time to go home. Time to drive back to Newton all the while developing a fishtale for all those I had foolishly told how I was going to stay on the beach and fish all night. As I drove back to the ferry, I started to formulate my lies. Letís see - would you believe 26 stripers, several blues, and 2 bonito? Would you believe 10 stripers, one bluefish, and a lost bonito? Would you believe 2 stripers and a blue? Would you believe no sleep, the boogieman, and an itsy bitsy sand shark?
I guess the lesson learned on this fantastic adventure was: "when you turn over your house to the next rental, mow the lawn, water the plants, then take the next ferry home to your loving family."