The slim-profile "Bonefish Box" by Anglers Image shown in the first photo below is one of the best boxes we have ever seen for carrying standard bonefish patterns - modern "slit foam" design holds flies securely and is easy to insert the flies in. This box will hold approximately 24 standard sized bonefish flies, but still fits easily in a shirt pocket - something that many boxes are advertised to do, but few achieve. The lid of this box is clear, which allows the angler to view the contents of the box before opening it - a real advantage as it minimizes fumbling while wading the flats or preparing to tie on a new fly from the deck of a bouncing boat. Dimensions are 5 3/4" x 3 5/8" x 7/8" (14.5 cm x 9 cm x 2.2 cm). Click photo shown below to view the box empty.

New for 2014 is the "Big Bonefish Box" (second photo) - this box dimensions are 7 3/8" x 3 7/8" x 1 1/8" - this larger box will hold up to 3 dozen standard bonefish flies when neatly arranged, and also has a bit more headroom for larger flies like crabs & sliders, etc. Both of these boxes are priced the same, and both are in stock now.

We can assemble fly selections similar to those shown these boxes. If you wish to order a selection of flies for your fishing, please call or e-mail us with details about where you plan to fish, and we can tailor a selection to suit your needs.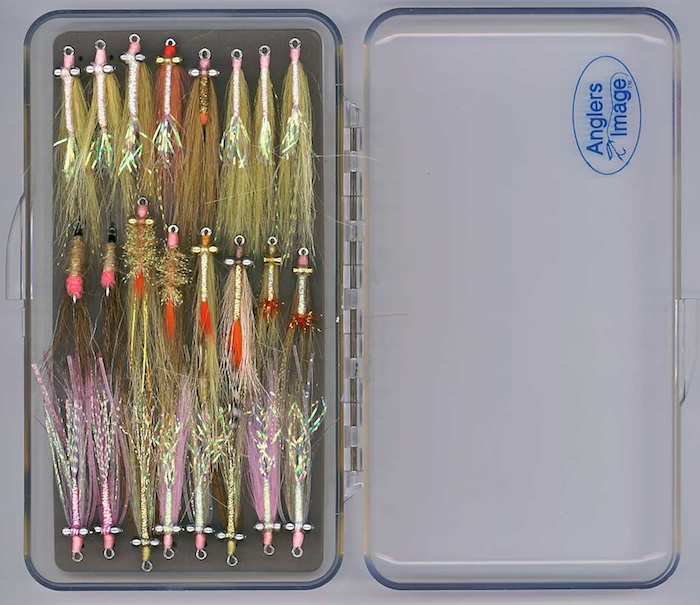 "Bonefish Box" $12.95 (pictured above - flies not included) Add to Cart

"Big Bonefish Box" $12.95 (pictured below - flies not included) Add to Cart


---
free, Free, FREE! Here's a little freebie offer! We occasionally post free goodies that we give away completely free of charge in this space - not too long ago we gave away some free flies. Now we have some free Elk Hair scraps - these are some scraps from when we cut up whole Elk hides for tying materials - the scraps are pretty good for fly tying - they just aren't so easy to package, and some of the hair might not be the highest grade. Good for making small bonefish sliders, bonefish bitters, and more. We've got about a dozen small packs of these scraps we will ship to anyone who wants them completely free of charge. Some of the hair may be long, and some of it may be short - the short stuff can be used to make freshwater flies like the Elk Hair Caddis, small hoppers & terrestrials, etc. If you want to add a pack to your order (one per customer please!), click the link: Add to Cart
---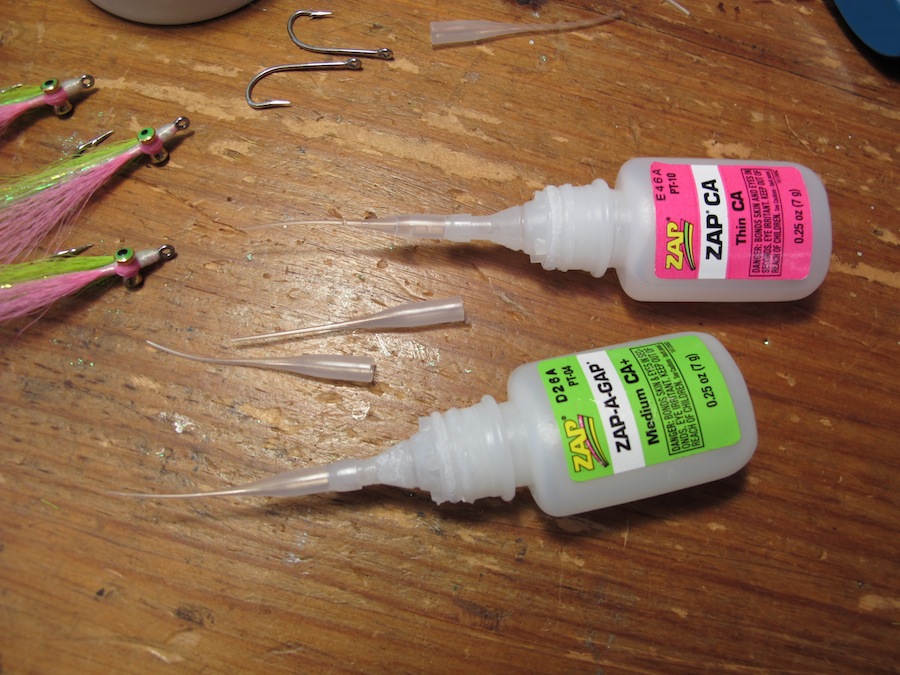 These days I'm often using one of the ZAP "super glues" to increase the durability of my saltwater flies - a quick hit on the thread wraps here and there makes the flies really tough! The green label stuff that we sell is basically all-purpose, and can even be used as a "head cement" to finish the fly. Anyway, the "trick" offered here is that ZAP offers what they call their "Extender Tips" or "Flexi Tips" - a very fine plastic nozzle tip that can be put on the super glue bottles, and left like this on the bench during tying - there's no need to keep putting the cap back on, as the nozzles can be left on for days without clogging. The "Zap A Gap" that we sell now comes packaged with these tips. I do keep a small rag handy to quickly clean up any spills and to keep the extender tips clean.
We've got a new feature going here at Saltwaterflies.com with more of these little suggestions; "Windy's Tips n Tricks" - click the link to check it out. - Chris Windram