Scott Patterson is well known to anglers on the island of Martha's Vineyard for his extraordinary ability to find and catch false albacore on flyrod. Whether from shore or from his "tin boat", Scott always seems to be in the right place at the right time. Scott hooks up more often, and lands bigger fish than the average angler, frequently placing in the island's famous fall fishing derby. Scott's skills with albies helped him to take 2nd place in 2000 for shore flyrod false albacore with a 9.07 pounder, and third place for the same division in 1999 with a fish of 8.95 pounds. He has also scored in other past derbies with another 2nd place albie and a 2nd place shore bonito.. I had the opportunity to fish with Scott recently for a few days, and this humble angler learned plenty from watching the master work. Accompanied by his fishing dog, Blue, Scott rarely misses a morning when Bonito and False Albacore are running. I had plenty of chances to speak with Scott during the inevitable lulls between blitzes, and here is some of what I learned about this Zen master of False Albacore.
Name: Scott Patterson
Age: 32
Home Waters: Martha's Vineyard

Q. Did you grow up fly fishing for albies on Martha's Vineyard?
A. Not really. I grew up in Philadelphia...
Q. When did you start fly fishing?
A. Probably my first fly fishing was for trout in the Little Lehigh which is a creek in Pennsylvania. This was really like fishing in a bathtub because the state stocked a lot of trout in there, they had fly fishing, catch-and-release regulations. I went to college at Penn State where I fished with this guy who was in some fishing clubs and stuff, and he would take me around to these clubs with him once in a while. Sometimes I couldn't even fish because of the rules of the club, but I learned a lot by watching him 'cause he caught a lot of fish. If we did fish together, he could give me the same fly, leader, everything, and he would still catch 20 to my one. I finally got the hang of it though, and started catching a lot of trout.
Q. What about saltwater?
A. My family had been coming to Martha's Vineyard on vacation since the mid-70's, so I had done a lot of spin fishing for bluefish and stuff even when I was a kid. There weren't a lot of stripers around then. I remember if you saw one it was a big deal, but you could go down to Wasque in August, or just about anytime, and catch all the bluefish you wanted, eight to ten pounders on every cast. When I left Penn state in '89 I was looking for someplace to go, and the island just seemed like a natural choice. I lived on the island for about a year and a half, then I got bummed out with the winter doldrums, so moved out to Boulder, Colorado for a year. I remember I came back to visit my family on Martha's Vineyard right after hurricane Bob. That was in 1992, I think...that was a big hurricane. In any case, the fishing right after the storm was unbelievable - Spanish Mackerel were all over the place, bluefish were everywhere, bonito were thick in Menemsha, everywhere it was really great. After that I moved back to the island and I've been here ever since. That's really when I got heavily into fly fishing.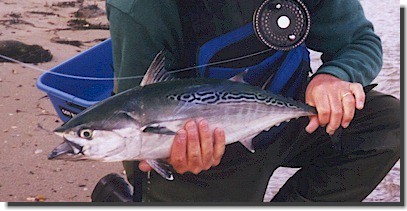 Q. What was your first saltwater fish on flyrod?
A. Striped bass. I started saltwater fly fishing when I moved back here from Boulder in '92. At that time all I had was a 6/7 weight rod, some kind of level line and this little Cortland Rimfly reel. I had met Jeff Sayre fishing on the Eastville Jetty - he was getting started saltwater fly fishing then. I remember seeing Ken VanDerlaske fly fishing. I saw guys dangling flies off the big bridge trying to catch bonito, but I don't know if I ever saw any of them hook up, I just remember that the whole saltwater fly fishing thing looked pretty cool and I wanted to try it.
After I met Jeff, he and I would fish inside the drawbridge at Lagoon Pond for bass. Someone gave us a tip about fishing there, and we would hammer the little stripers there on spinning tackle with bucktail jigs. At some point we tried the beach on the outside and found all these stripers feeding up against the beach. I had some flies that Drew Anderson gave me - he was really good about helping people get started fly fishing. So I started fly fishing there and hooking up with these stripers at Eastville Beach, and I really had a ball. I couldn't cast more than 30 feet that first year, but I was catching bass anyway.
I ended up breaking my little 6 weight on a fish at the beginning of August. After I broke that first rod I bought an Orvis nine weight rod for about three hundred dollars. I couldn't believe I was paying three hundred bucks for a fishing rod, but I figured it would probably be a good deal because Orvis had just started their lifetime guarantee on fly rods. I still have that rod - I even fished with it this year. I also bought a Scientific Anglers System 2 that wasn't too expensive, but that reel didn't last quite as long.
Q. When did you catch your first albie or bonito on flyrod?
A. I caught my first bonito on fly maybe in '93 or so...I didn't know what the hell I was doing. I went down to State Beach in Edgartown around three in the afternoon. This is at the time the bonito fleet was out there...there would be twenty or thirty boats out off the beach on any given morning, so I went out in the afternoon 'cause I didn't want to get in anybody's way. I remember putting the boat in the pond in by the Little Bridge on the Oak Bluffs side. I launched by the bridge and drove the inside of the pond all the way down to the big inlet at Big Bridge, then went outside the inlet and anchored up out there. At this point I was still trying to learn how to cast.
I recall seeing Dave Thompson out there in his canoe, and I was watching him for pointers. I didn't see him catch anything that day, but he was casting away; I think maybe he had hooked up earlier. So I'm blind casting out there for about an hour with no fish breaking or anything when all of a sudden eight or ten bonito came up on the fly - none of 'em took it, they all spooked and went under the boat. My heart was beating like mad, though! About five minutes later two or three fish came up on the fly and one ate it. This fish fought like mad - I had never had anything like this on the flyrod before. There was absolutely no comparison to the small bass I had caught.
I kept the fish, and stuck it in a cooler. When I headed back inside the pond to go home, the shellfish warden mistook me for some guy he saw taking shellfish illegally, and he stopped me and tried to bust me for poaching clams. He was real serious, I recall. He got a surprise when I opened the cooler and all there was in there is this one bonito. Also I've got no clam rake or bucket or anything, just a fly rod. The warden apologized profusely - I thought it was pretty funny.
Q. What about false albacore?
A. I think I caught my first fly rod albie at Eastville from the jetty, right at this spot where some shallow water comes close to the jetty. This is next to the inlet to Lagoon Pond where the drawbridge is, so there's plenty of water movement and lots of baitfish there most years. There's like a little rise there next to the jetty where the fish show first before running down the jetty to the tip. I was fishing this spot because the tip would get crowded, and I noticed that the fish would rise in this spot and nobody would be there when they came up.
Eastville hasn't been quite as good in the past few years, but it's still a spot you want to check out if you fish bonito and albies from shore.
Q. What other spots do you fish for albies and bones?
A. I fish between Oak Bluffs and Lake Tashmoo which is basically the two points on the north side of Martha's Vineyard - East Chop and West Chop, and the areas on either side of them. I fish the Steamship wharf in Oak Bluffs from my boat. Vineyard Haven harbor can have a lot of fish at times. Some of the smaller inlets are good too, at the right time.
Q. What about Edgartown and Chappaquiddick?
A. I go to Big Bridge once in a while - I got my second place fish there this year. I don't fish the "Gut" on Chappy or anything, even though I know it's supposed to be pretty good. Gets really crowded I hear. And I don't fish Wasque for albies even though I know they catch a lot of fish there. That's kind of a surfcasting spot anyway - tougher for flyrodders to fish because of all the spinning guys.
Q. Are you strictly fly fishing, or do you do other kinds of fishing also?
A. I used to catch lots of fish on spinning tackle when I was a kid. These days I suck with spinning tackle - I can't seem to catch anything when I pick up the spinning rod, so I just stick with the fly rod.
Q. What kind of rod and reel outfit do you use for albies and bonito?
A. I have an Orvis nine weight Silver label rod which I won in the Derby. I put a ten weight line on it and it works fine. I use a Loop reel which has a very large diameter spool for rapid retrieves - that's very important for albie fishing. Last year I used an eight weight. Casting distance is reduced with an eight, but there's no problem fighting the fish, especially from the beach. On the boat you need a stiffer rod to lift the fish when you get them close to the boat.
Q. Do you use the same sort of outfit for stripers and other species?
A. Yes, except for the reel. The reel is less important for striper fishing, since bass generally don't run as far or as fast as false albacore. I use a smaller reel for stripers...I have a Lamson that works fine, a Teton, maybe a couple of other reels.
Q. What kind of leader system do you use for false albacore?
A. Um, I use all fluorocarbon, for the entire leader. My leader system is basically just thirty pound, twenty pound, and fifteen pound test in three sections, blood knotted together. The whole rig is about eight feet long. Sometimes I just use a thirty pound butt section with a twenty pound tippet - that's it. Fluorocarbon draws more strikes because it's less visible in the water. It also doesn't knot as bad if you get a wind knot, so you can untangle the thing. Don't try knotting fluorocarbon to monofilament though, the knots will slip out.
Q. A lot of saltwater anglers use a loop-to-loop for the tippet. What about you?
A. I don't like the loop to loop connection because I think it's too big and collects weed. You get a limited number of casts to fish each day - you don't want a bunch of weed on there all the time.
Q. What about the knot to the fly?
A. A loop knot to the fly is key. You can use a heavier tippet if you use the loop knot - I use fifteen or twenty pound test. The non-slip mono loop is the best knot that I've found for this loop knot. I saw this knot in Lefty's book - Practical Fishing Knots II.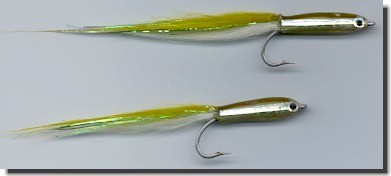 Q. How about flies?
A. I have my own silversides pattern that I tie. It seems to work really well in a lot of different situations, and the fish take it readily. I've even tied a weedless version with a mono weedguard for days when there's a lot of weed in the water. I haven't really fished the weedless fly hard yet, but I've tried it; it is pretty weedless. Bonito will sometimes take a slim white deceiver about five or six inches long when they won't take other flies. I learned this trick from Noah Maxner, who is one of the best bonito fishermen I know. If the fish are on baby bunker, sometimes a bunker style fly slightly larger than the naturals will catch fish better than an exact imitation.
Q. Can you describe the "Scott's Silversides" pattern that you tie?
A. I don't really have a name for it. It's basically a small epoxy with a few key elements that make it a good fly. This fly is tied on a Partridge saltwater fly hook - the CS53 "Sea Lord" hook I think they call it. This is the long shank one, in a size #4. I tie in some white craft fur, then wrap a body of a pearl colored braided tinsel. Then I tie in greenish Polarflash or Glimmer or whatever at the hook eye. On top of this is olive craft fur for the dorsal color. I slip a length of some natural color E-Z Body or Corsair tubing over the hook, about the same length as the hook shank. This is tied down at the hook eye. I epoxy the whole body of the fly, then add a couple of 1/8" silver eyes and a silver stripe for the silverside effect after the first coat of epoxy is dry. The silver stripe is just a strip of extra tape from the sheet of reflective tape that the eyes come on. Then I add a second coat of epoxy. The whole thing is pretty cool...the stripe is really reflective just like a natural silversides. The Corsair or E-Z Body tubing shows through very faintly in a fishscale pattern, and the green flash in the wing "glows" through the epoxy body like the iridescence of a real baitfish. The whole fly is about three-and-a-half inches long. Even if the albies are chasing sand eels, or baby bunker or whatever, they will take this fly.
Q. What differences in habit are there between bonito and albies?
A. Bonito stay deeper both on the move and on the feed. Bonito are slower in feeding or not quite as aggressive or something, Bonito are more likely to hit a bigger lure or fly, but can also be a lot pickier. They will hit a long sparse white deceiver fished on a slow retrieve when they get tough.
False albacore are much easier to catch from shore than bonito. I catch most of my albies from shore and most of my bonito from the boat.
Albies have a pattern of feeding that makes them easier to catch, too. I watched albies feeding under this one dock I fished from for a couple of years...the school would come up and bust the bait once, then they'd go down and circle low and slow, and individual fish would rise to any injured or disoriented baits. Instead of trying to cast right into the fray when they first come up, I set up to time my casts for the "low and slow" action, and I get a lot of hits this way. If people think I have some secret for hooking albies, this is probably it.
Q. How many albies did you catch this year?
A. I landed fifty-two albies this year. I got about forty of those fish from shore, and another dozen from the boat.
Q. How many bonito?
A. I landed thirteen bonito this year - all from the boat.
Q. How many albies do you think you've landed in your entire career?
A. I landed fifty two this year, and fifty two last year! Before that I didn't land as many - I remember I got about thirty in 1997. Probably about two hundred albies in the past seven years, mostly from shore.
Q. Tell me something about big albies and their habits.
A. Every big fish I ever caught was blind casting. Big albies are loners, they typically don't run in the big schools. Maybe they're there, but the smaller fish beat them to the fly or something. Big fish tend to come by alone or in packs of two or three. They are spookier, too... less likely to take the fly because they're not in a big blitzing frenzy. I've heard that it can be different in other areas, like maybe Montauk and North Carolina, but this is the Vineyard we're talking about here.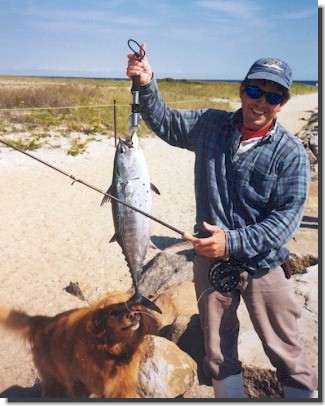 Q. Do you fish for a living? How do you get enough time on the water to do as well as you do?
A. Very funny. I work, but I don't have to be in to work until 9, so I can get a couple hours fishing in before work during bonito and albie season, which pays off. Some guys have to be at work at 7, which is harsh. Plus I take two weeks off during albie season, which really lets me focus on the fishing. I'm out there just about every day when the fish are here.
Q. Do you fish all day, or certain parts of the day?
A. I usually get up early...I'm on the water most days at seven o'clock unless it's a really bad weather day. I don't fish all day though. You've got to rest up sometimes, too. Some guys fish dawn 'til dusk, but you'll just get burnt out doing that. The best action usually comes in the morning. If I'm not tired, and the tide is really good or fish are showing or whatever, I'll stick around and fish the afternoon. I have caught plenty of decent fish in the afternoon, but morning is best. The fish are hungrier then; more agressive...more likely to make a mistake.
Q. Your dog "Blue" is locally famous for spotting albies. What can you tell me about her?
A. A lot of times Blue sees the albies before I do, so I watch the dog as much as I watch the water. When she sees fish she starts barking at them! Her eyes and ears are probably better than mine. If Blue goes running up the beach barking, I know the fish are coming in to the beach. There's no question about it. If she goes down to the inside end of the jetty, I know the fish are there. My friends have learned to watch the dog, too.
When you land a fish, Blue comes over and bites it - but not hard, she doesn't hurt it. I had this bonito on one time, and I had it right next to the jetty. This was during the Derby when flyrod bonito are really hard to find. So I've got the fish close, and Blue jumps in and starts chasing the thing around in about two feet of water, and I'm yelling "Blue, come back!", really loud - I'm sure I'm going to lose this fish. But I did land it - I got second place shore flyrod bonito with that fish.
Blue's a great fishing dog, but I wouldn't recommend everybody getting their dog out on the jetty. It's easy for a dog to fall down out there and get hurt in the rocks, or get a hook in them from a fisherman or something. Blue has learned to be careful fishing.
People are always taking pictures of me and Blue fishing - in the boat, on the jetty, everywhere. We were in the paper here on the island this year. There was a full page color photo in Offshore magazine this year - that was really great! My mom went around and got every copy on the island along with "Bonito" Ed Lepore who had his picture in that same issue.
Q. Some folks get pretty crazed and obsessed with bones and albies. What about you?
A. Some people do get obsessed. I know this one guy (I won't use his name) who's in college; he fished the 'Vineyard derby instead of going to school. Three or four weeks of straight fishing while his parents were paying for classes and stuff! He's a really good fisherman, though, so maybe he's got his priorities straight.
Jeff Sayre who I fish with is pretty funny. Jeff's about the most anal person I ever met. If he takes a rod out to fish with, he can't just rinse the rod off at the end of the day, he's got to take the reel off the rod for rinsing, put a new leader on, take the fly off and rinse it and everything. If the fish aren't really showing, he won't even cast so he doesn't get saltwater on the rig. I think he's pretty crazy, but his equipment always looks brand new and he rarely has any equipment trouble or anything. Plus he catches his share of albies and stuff, so he probably shouldn't change his tactics.
I've seen some pretty weird behavior over the years. You'll see some guys pulling their hair out and cursing when the fish won't take. It's better to stay as relaxed as you can - the more relaxed you are the more fish you'll catch. You need a Zen-like attitude to catch albies, so you'll be calm and ready when the action heats up, or when it's tough. I always try to keep an open mind to try to figure out what the fish are doing. I watch the water everywhere, try to judge where the fish are going to be next. I watch what other fishermen do, what works and what doesn't. If I had a couple of words of advice for people learning how to fish for albies it would be this: Stay calm, keep your eyes open and notice everything you can about the fish and what they're doing, and get out on the water when the fish are around. That's the only secret to catching albies on the fly.
Saltwaterflies.com would like to thank Scott profusely for his contribution to our article, and to the fishing community in general. Scott is always willing to share the information that he has learned, which is the hallmark of a fine angler.
---
False Albacore Fever - Fly Fishing Photographs 2000
Check Out Our Other Fly Fishing and Fly Tying Articles
---
Want to learn more about bonito and albie fishing on Martha's Vineyard? The following websites can offer more information on fishing spots, timing, and techniques: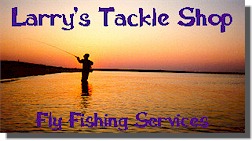 Larry's Tackle Shop
Edgartown, Massachusetts (Martha's Vineyard)
(508) 627-5088
www.larrystackle.com
TIGHT LINES!
P.O. BOX 362, HOUSATONIC, MA 01236
413 274-6143

SaltwaterFlies.com - Got Backing?