Home | Saltwater Flies | Fly Tying Materials | Saltwater Fly Fishing Accessories
Ordering Instructions, Shipping rates, Your Satisfaction Guaranteed
Saltwater Flies Mainpage | Chris Windram's Saltwater Fly Museum
Boylermaker Albie Fly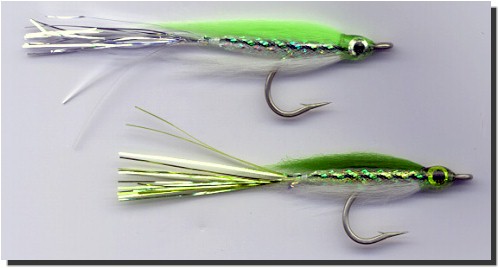 Designed by noted Martha's Vineyard charter boat captain Jaime Boyle, and perfected aboard his boat, the "Boylermaker", this fly has been a consistent producer for bonito, false albacore, and striped bass. This fly is an excellent choice for areas where small baitfish like silversides or bay anchovy are the dominant prey species, and the non-fouling design insures perfect presentations every time when making quick casts to fast-running fish.
---

COLORS:                    		SIZE: 4              PRICE $6.50 each

Chartreuse/Pearl Add to Cart
Olive/Pearl      Temporarily out of stock


View Cart

The Boylermaker Albie fly is tied on the Tiemco 800S hook; size #4. This fly is approximately 2 3/4 inches (7 cm) long. Tied by Dave Skok. For info on booking a fly fishing charter with Capt. Jaime Boyle on Martha's Vineyard, please e-mail Jaime at: boyler@adelphia.net.
---




TIGHT LINES!
P.O. BOX 362, HOUSATONIC, MA 01236
413 274-6143 * Fax 413 274-0145


SaltwaterFlies.com - Got Backing?

We can help you to choose a fly selection for your needs.
E-mail us at cwindram@SaltwaterFlies.Com.

[Back to the Fly Navigation Page] [Wade Back to the Home Page]