Professional fly tier Dave Skok has made a name for himself tying saltwater flies for shops on the East Coast of North America. Recently, Dave won the Martha's Vineyard Striped Bass and Bluefish Derby with a fly-caught false albacore taken from the beach. Amazingly, Skok took grand leader in his division in the previous year's derby with a fish of almost the same size, caught in almost the same location. Here's the story of how lightning struck in the same place twice for one skilled and very lucky angler.
Name: Dave Skok (pronounced "Skoke")
Age: 27
Home Waters: Boston Harbor, Martha's Vineyard

Q. When and where did you start fly fishing?
A. Well...I started fly fishing when I was about 10 years old. I fancied myself a trout fisherman, but it was mainly for bluegills, rock bass, and other panfish and stuff in southwest Connecticut in the area around Fairfield.
Q. When did you start fly fishing in saltwater?
A. I was about 15 years old when I started fishing in the same area in Long Island Sound. Striped bass were the first fish that I caught on fly rod, then I got into bluefish and whatever else I could catch. I probably caught a couple of snapper blues on my 5 weight before I got any big fish. At that time I fished with friends from high school...most of them didn't even fly fish. Also around this time, I would spend one day a week fishing saltwater with my dad, and my mom would take me trout fishing, so I got a very thorough education in fishing.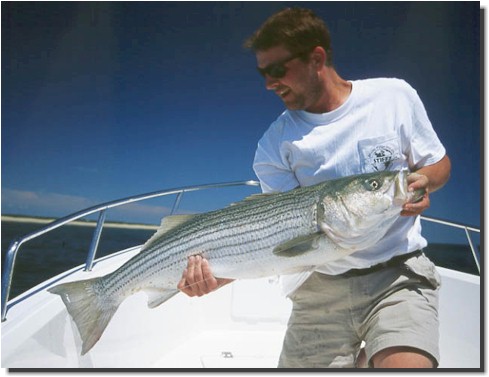 &nbsp

Q. What was your first big saltwater fish on flyrod?
A. My first big fish on fly was a striper I boated while fishing Watch Hill with guide Steve Burnett - I had never fished there before, but I got this big fish in the boat - I was feeling pretty good about it. This was during the squid run in June - I had never seen anything like it before; fishing in the rips with squid flying out of the water all over the place, and big bass tearing it up underneath them. It wasn't too long after that I made my first trip to Martha's Vineyard in June, and that was it. I think that was the start of it all, really.

Q. Where are your home waters?
A. Boston Harbor - I live right on the water in Winthrop, which is a peninsula, with Boston Harbor proper on one side, and Broad Sound on the ocean side. It's a pretty interesting situation, with the clear water of the sound on one side, and brown harbor water on the other side. I don't even start fishing the harbor until June, but I head to Martha's Vineyard in May every year. I fished about 9 weeks this year on the 'Vineyard, but most years I fish about 3 weeks out there. I still consider the Vineyard my home waters, even though I have to drive a little to get there.

Q. Another well-known fly tier, Jack Gartside, lives and fishes around Boston - do you ever see Jack when you're out on the water?
A. I run into Jack Gartside all the time fishing up here - most of the time when I see Jack, he's fishing around Winthrop and Revere.

Q. Who else do you hang with when you go fishing?
A. I have a core group of friends that I fish with here in Boston, but I fish alone a lot. I like to fish during the week when other anglers aren't around. I fish with Capt. Jaime Boyle on Martha's Vineyard whenever I get a chance.

Q. Where else in the world have you fished?
A. I'm no world traveler, but I have fished in the Bahamas and the Florida Keys, as well as out west for trout in Colorado and in the Catskills. For saltwater I like Watch Hill, Rhode Island, and there's plenty of other good water from Point Judith, Rhode Island, to the Thames River.

Q. What are your favorite saltwater species to go for?
A. Green Bonito are my favorite! I 'd rather catch bonito than anything. They are the toughest. In my opinion, bass over 20 pounds and bonito are the toughest of any of the saltwater gamefish around here, even tougher than albies.

Q. How did you get into commercial fly tying?
A. I started doing it when I was 16, tying lots of tiny trout flies. This was back in the late 80's and none of the big fly manufacturers were making flies smaller than 20's. I tied and sold plenty of trout flies in sizes smaller than #20. I started tying for saltwater around the same time- Mystic Bay Flies had me tying tails on their poppers. I probably made thousands of those popper tails - I made a lot of money for a high school kid. Since then I designed a silicone baby bunker and a craft fur grass shrimp that Mystic Bay used to produce. I don't tie the baby bunker commercially any more, but my Skok's Baby Bunker and some other flies were featured a few years ago in "Innovative Saltwater Flies", a real nice book by Bob Veverka. These days I tie for a few very good shops, as well as being a custom tier for Orvis.

Q. What style of flies are you tying a lot of now?
A. The mushmouth is the probably the one that everyone knows me for.
Q. The Mushmouth? What is that, and how did you develop it?
A. The Mushmouth was developed when I was fishing with my good friend Capt. Chris Aubut. We're about the same age and we're buddies so we fish quite a bit together - whenever he's got time off. Sometime in Mid-July of 1999 he called me and said there were acres of blitzing skipjack tuna inshore near Westport and the Newport - Sakonnet area. That year we had a sweltering summer, and there was this finger of warm water between The Block (Block Island) and the 'Vineyard which must've brought these fish in from the Gulf Stream. Schools of skipjack pretty much come into the Block every year, but this particular year there were tons of them. These fish were anywhere from six to about nine pounds. The cool thing about the skipjack is that they've got the squirrely run and unpredictability of a bonito, with the speed and stamina of an albie. When they go on the feed, they're all lit up like a purple budweiser can. With blitzing skippies, its glowing blue and purple everywhere you look!

Anyway, these fish in Westport were eating immature herring the size of a dime, and they were impossible to catch. We had hundreds and hundreds of casts into them and I think we caught maybe 4 on the flyrod. The only way we managed to catch them was on these very flashy flies tied almost entirely with krystal flash and flashabou and epoxy. These flies were about 5-6 inches long. This was called the Popovics 3-D fly, and each one took about 25 minutes to tie. I ended up going home and tying a similar fly with Angel Hair, and I ended up using softex instead of epoxy because you don't have to mix it, and it works well. In any case, we had some decent success with the new fly, and we started hooking up more consistently with the skipjack. Since that time I've caught tons of fish of all sorts on the Mushmouth. I refined the pattern until it's easier to tie, I use Wing-n-flash to tie it, and I make a lot of Mushmouths now.
Q. That still doesn't explain why you call it the Mushmouth - enlighten me!"
A. I ended up calling it the "mushmouth" because that's what the offshore guys call skipjack tuna, and it was fishing for the skipjacks that led me to develop the fly. Offshore anglers call skipjacks mushmouths because the skipjack has a soft mouth compared to a large tuna. These offshore guys don't even stop the boat when they hook up with these little tuna - they're trolling for bigger game! So sometimes the lure comes back to the boat with a pair of lips on the hook from some poor skipjack tuna - thus the mushmouth name.

Q. You won the Martha's Vineyard Fishing Derby this year with a big albie, but we'll get to that in a minute. You were also a grand leader in the 2000 Derby. Can you tell me about last year's fish first?
A. Last year's fish and this year's fish were flip sides of the coin in terms of how they were caught, and how the whole gig went down from start to finish. In 2000, I woke up late the morning I caught my fish. This was sometime mid-to late October of 2000. I really wanted to fish the Lobsterville side of the Menemsha inlet, but because I woke up late, I went to the Menemsha side. I hardly ever fish there, because it's easy to get to, and lots of tourist fishemen and stuff show up there. Anyway, I got there about seven o'clock in the morning. I walk out on the jetty, and I've got my stripping basket on the rocks, and I'm stretching the line. No fish had been showing, and then the albies pop up. This was a small school of big fish! My line is all over the rocks, but suddenly here's this school of fish! I made the cast, but the fish were moving and I didn't hook up. Then made a second shot and hooked the fish. So I've hooked this fish, and it screams out of the inlet. Pretty soon I'm down about a buck and a quarter on the backing (125 yards). At this point there's a boat anchored outside of the inlet, and my fish headed out and went about 3 feet past this guy's anchor line. Then miraculously it goes away from the boat. Then it went across the channel and goes in front of some other guys fishing there. I mean this fish has got the line going right over the rocks on the other jetty, and I'm still losing line! Jared McKenzie was on the other jetty, he sees the fish go by, and he's yelling at me, telling me the fish is really big, and puking up sand eels. Then the fish comes back over to the anchor line. I nearly had a heart attack, but the albie swam free, and I landed him. When I picked it up it was huge! I picked him up by the tail, and he yakked up about a half pound of sand eels. I drove right to the weigh-in in Edgartown, where the fish weighed 12.96 pounds. I learned not to hold a big fish up by the tail if you're going to weigh it in - that fish would've been close to fourteen pounds if he hadn't spit up all that bait. When the derby ended I took first place for shore albacore with that fish.
Q. What fly did you catch it on?
A. I got that on a Yellow Mushy - Mushmouth - I remember the hook was bent open like a safety pin from that huge fish. The Mushmouth I tie for albies is about 3 ½ inches long with a pearly belly made of Wing-n-flash, and the back color is light yellow Wing-n-flash. I like the yellow fly early in the morning or last light. I also fish chartreuse quite a bit. When I fish for offshore pelagic species like baby bluefins or skipjack, I like a darker back color.
Q. In 2001, you repeated this extraordinary feat. How did you manage it?
A. This year was totally different in some respects, even though I caught the fish at Menemsha. I had spent the whole day on East Beach out on Chappaquiddick. I had the canoe out on the beach, and the day before had been great, but this particular day the fishing at East Beach sucked. I had to go home the next day, but I had agreed to meet Bob Veverka at Lobsterville, which is on the far side of the Menemsha inlet. When we met down there at about three in the afternoon, Bob had already been there for a while, and as far as I know he had caught the only fish on the beach there all day. So there's nothing happening when I get down there, but I didn't want to leave, so we walked over to the the jetty. I'm out on the jetty bitching about how lousy the fishing has been during the derby. Last year I caught 30 albies, and this year I got about 6!.

Anyway, we're on the jetty, I'm bitching, and there's no bait, the tide is dead low and everything is wrong. Then I remember looking down at the water, when suddenly I see about a dozen huge albies swimming around down there! I run down the jetty, but I've got the line all reeled up. I stripped out some line, made one short cast, and an albie engulfs the fly. This fish buzzes me down 100 yards out to the tip of the jetty, and I'm about 12 feet above the water because the tide was so low. This fish was out to sea...I couldn't move him! I realized the fish was tailwrapped, but then the fish freed itself from the line and started to run again. I had a giant wave of anxiety, but I landed the fish safely in the end. I couldn't believe it - this fish was huge! I wouldn't even have been on the jetty if Veverka hadn't said let's go down there - I would've been out on East Beach getting skunked. When I got to the weigh-in that evening, this fish weighed 12.97 pounds, exactly one one-hundredth of a pound heavier than last year's fish! I'm still pulling the lucky horseshoe out of my ass.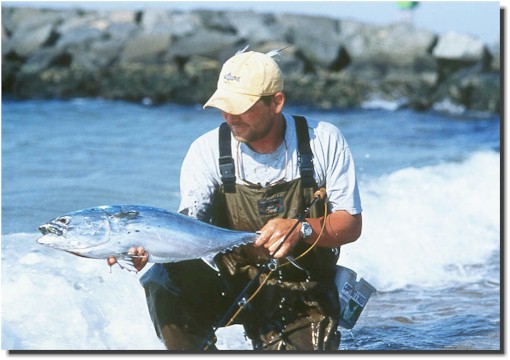 Q. You were a grand leader last year, but this year you won the whole deal, boat and everything. How were you feeling when you won?
A. Well, the eight grand leaders in the derby draw a key out of hat to see who wins the boat. Then each angler tries their key in a lock - the key that opens the lock wins the boat - so this part is purely by chance. The guy who caught the biggest shore bass asked me if I wanted to trade keys, but I said no. I picked key number one, what are the chances of that!? So I was first to try my key in the lock - I was sure I'd never win. When the key opened the lock, I couldn't belive it! It was the most bizarre moment of my entire life - totally surreal, totally whacked. I couldn't belive it was happening. I started looking around to see everyone else's reaction, and they're all looking at me! Then I knew it was real, but I'm still amazed. Now I'm trying to figure out what I'm going to do with the rest of my life. All I ever wanted was to win the derby.
---
Saltwaterflies.com would like to thank Dave Skok profusely for this interview. Anglers interested in Dave Skok's flies find a variety of them on our Saltwater Flies page. Dave Skok leads guided fishing trips in Boston and on Martha's Vineyard, and he is available for slide shows and tying classes and demonstrations - consider booking Dave for your next fishing trip, or for your local club's monthly meeting. Visit Dave's website at www.dwskok.com. Saltwaterflies.com is proud to feature Dave Skok's Mushmouth among our selection of saltwater flies.
---
Related Links:
False Albacore Fever - Fly Fishing Photographs 2000
Tying the Mushmouth - YouTube Video
Martha's Vineyard Derby Website
---
Want to learn more about albie fishing on Martha's Vineyard? The following websites can offer more information on fishing spots, timing, and techniques:
Larry's Tackle Shop
Edgartown, Massachusetts (Martha's Vineyard)
(508) 627-5088
www.larrystackle.com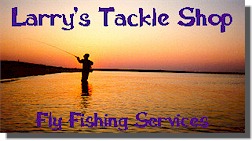 Check out our other fly fishing and fly tying Articles and Stories.
TIGHT LINES!
P.O. BOX 362, HOUSATONIC, MA 01236
413 274-6143

SaltwaterFlies.com - Got Backing?