Home | Saltwater Flies | Fly Tying Materials | Saltwater Fly Fishing Accessories
Ordering Instructions, Shipping rates, Your Satisfaction Guaranteed
Saltwater Flies Mainpage | Chris Windram's Saltwater Fly Museum
Flash Minnow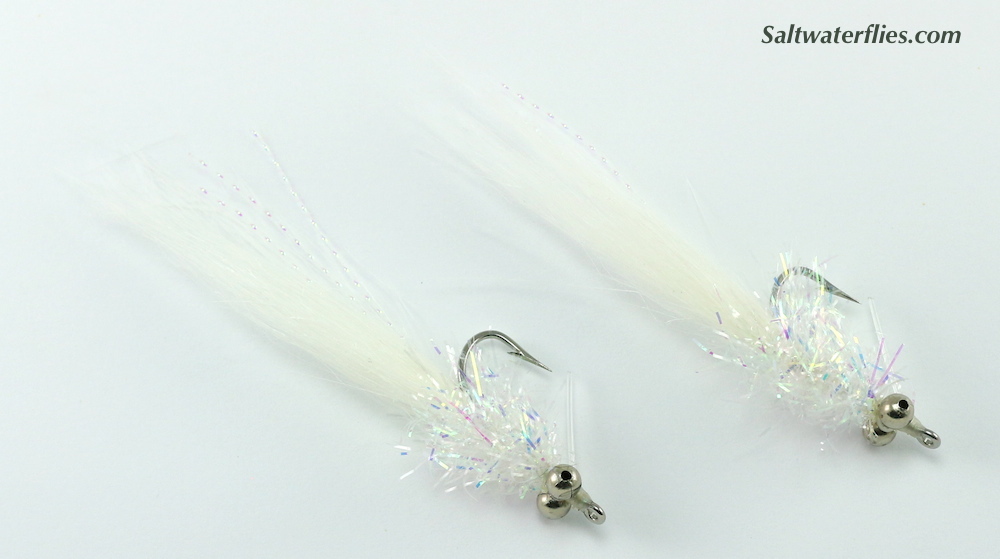 The Flash Minnow is a simple, effective fly, and easily one of those "top 10" kinds of patterns that make it into our boxes for just about every saltwater trip we take. Snook, tarpon, redfish, bonefish, striped bass, seatrout - all of these species and more have been taken on the Flash Minnow style over the years. This is such a classic pattern, with soft tail materials for great breathing action in the water, and bright body to catch the attention of active gamefish. Lightly weighted with bead chain eyes and just great for fishing in shallow water, mangrove, marshes or backcountry; includes a single monofilament weedguard which is easily clipped off for fishing open-water areas if necessary.
---

(Two flies pictured to show consistency, but these are sold one to a pack) $7.49/ea

Flash Minnow #2

White Pearl	Add to Cart
White Pearl/Orange Add to Cart
Root Beer Pearl	Temporarily out of stock
Shrimp Pink Pearl Temporarily out of stock
Tan Pearl	Temporarily out of stock
Chartreuse Pearl Temporarily out of stock
Chartreuse Pearl/Orange Temporarily out of stock



---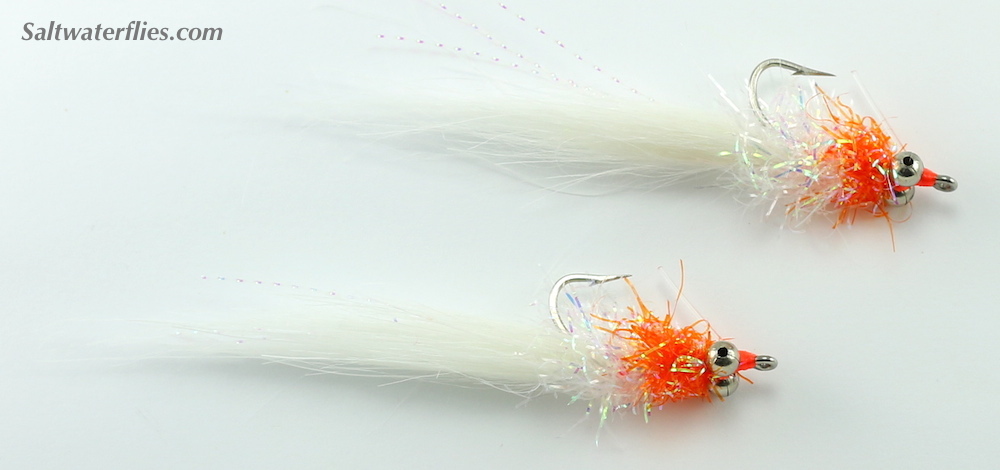 Flash Minnow White Pearl/Orange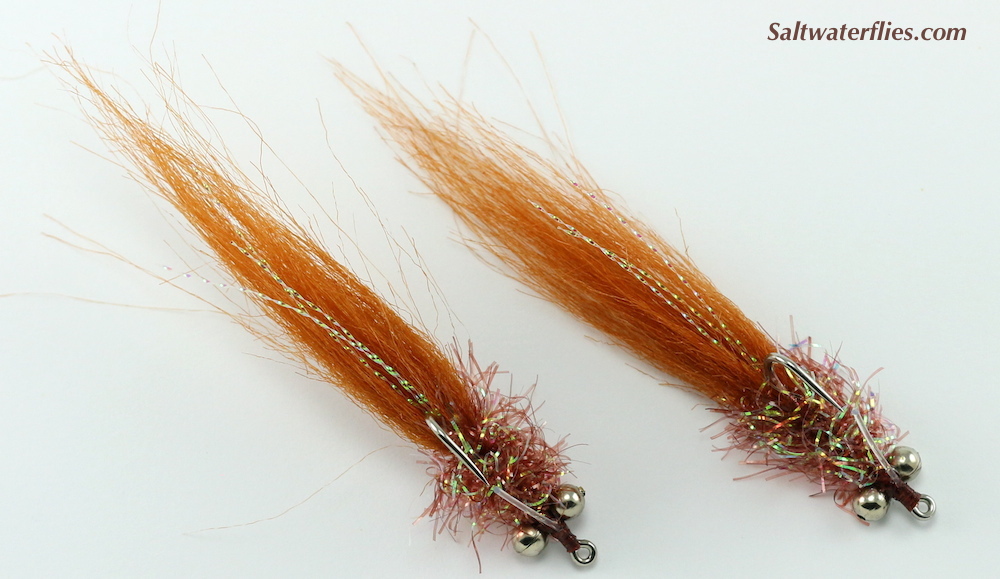 Flash Minnow Root Beer Pearl - top view
Flash Minnow Shrimp Pink Pearl
Flash Minnow Root Tan Pearl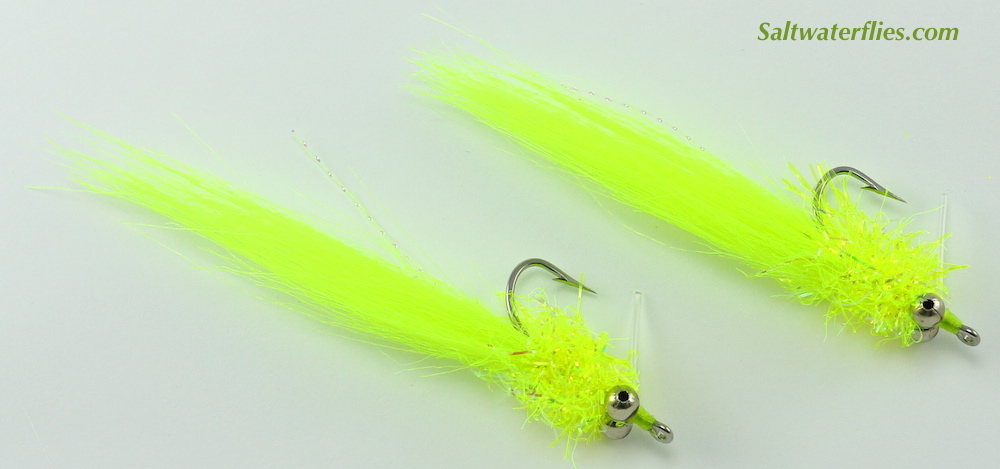 Flash Minnow Chartreuse Pearl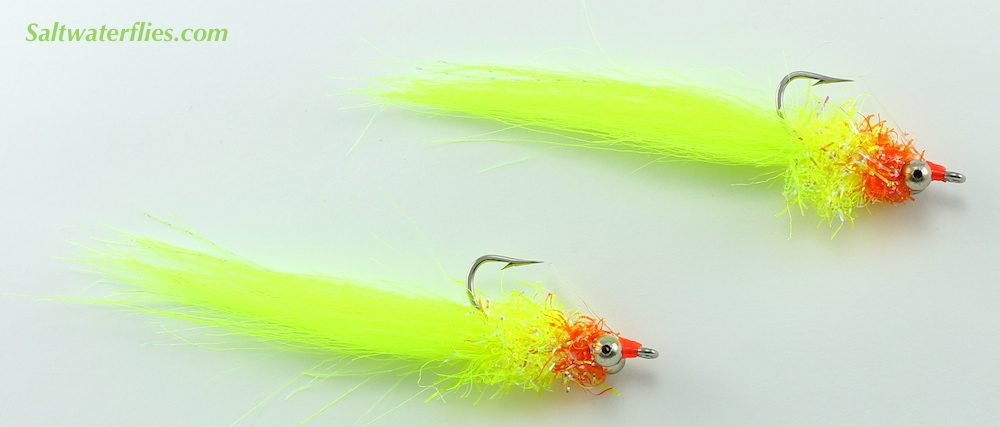 Flash Minnow Chartreuse Pearl/Orange
---
The Flash Minnow is very sweetly tied by Taylor Topliffe. This #2 fly is approximately 3 1/2 inches long (9 cm). Similar flies: Crystal Critter, Crystal Minnow.
---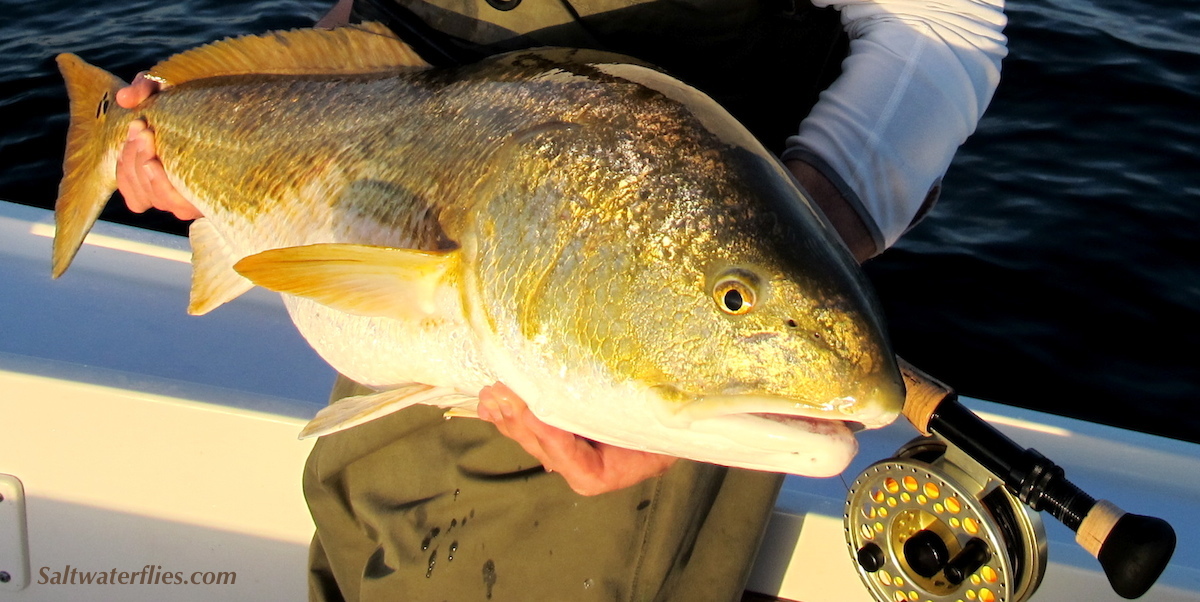 Note: All of the Saltwater Flies that we sell are handcrafted items - some small variations in size, color, or shape from the flies pictured here are possible. We guarantee your satisfaction with any fly purchased from us - if any fly you order from us does not meet your expectations, you may return it (unfished!) for a full refund.
---




TIGHT LINES!
P.O. BOX 362, HOUSATONIC, MA 01236
413 274-6143 * Fax 413 274-0145


SaltwaterFlies.com - Got Backing?

We can help you to choose a fly selection for your needs.
E-mail us at cwindram@SaltwaterFlies.Com.

[Back to the Fly Navigation Page] [Wade Back to the Home Page]