A video of Martha's Vineyard in Hurricane Sandy, shot by Capt John Schillinger.
---
Tying the Popovics Ultra Shrimp
---
Antigua Fly Fishing:

Fish with Capt. Nick Williams in Antigua! Great flyfishing, light tackle, reef, and big-game
fishing in a beautiful location. Apartment rentals on Antigua also available at Reefviewapartments.com
---
Gulf Breeze Guide Service:

Team Saltwaterflies.com made a trip to Pensacola to fish with Capt. Baz Yelverton in 2010, and it was fantastic! Good fishing, and a great Captain.
Please consider fishing with Capt Baz if you're going to be in the Pensacola area!
---
Desroches Fly Fishing

Adventures in the Seychelles
Untamed Angling

Worldwide angling adventures!
---
Catch Magazine

Extraordinary online magazine with fly fishing photos & video
RailRiders

The Toughest Clothes on the Planet!
Coolibar

Sun Protective Clothing
Caseysmartt.com

Casey Smartt's Fly Fishing, Fly Tying, Art & Outdoor Stuff pages - take a look!
Flymen Fishing Company

Featuring many innovative products for fly tiers.
Fishingthevineyard.com

Fishing the Vineyard.com's excellent blog / reports page with insights into fishing on Martha's Vineyard.
News Video from CNN: Stimulus money pays fishermen to snare lost nets

Federal stimulus money will pay to recover thousands of nets littering coastal waters.
News Story: "Diver Ed" and "Captain Evil" Show Visitors New Worlds Underwater

By Blake Davis.
Maineharbors.com - Tide Charts, Marine Weather, and more

For anglers headed "Down East"
The Big One: Dave Kinney's new book on the madness that is the Martha's Vineyard Striped Bass & Bluefish Derby.
Fat Guy Fly Fishing: These guys offered a a fascinating review of Dave Kinney's book - we couldn't resist.
Texas Fly Caster: Fly Fishing Culture on the Skids
Fish Eyes of Martha's Vineyard: - fascinating closeup photos of fish eyes by Capt. Phil Cronin of Capawock Charters, Martha's vineyard, Massachusetts.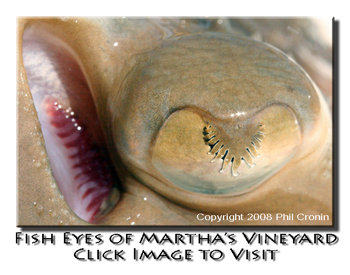 The Udufu Flyfishing Experience: - Saltwater Flyfishing South Africa.
ThisIsFly.com: - Online Magazine of Fly Fishing with a fresh perspective and cutting edge format - take a look!
Colton Fly Fishing: - A new series of fly rods and reels from Pennsylvania.
Edgartown Harbormaster - Martha's Vineyard, Massachusetts.
saltwaterflyfishing.com.au: Saltwater Flyfishing Adventures - Hervey Bay, Australia.
All Seasons Marine Works: Complete Marine Services and Sales in Westport and Rowayton, Connecticut.
NOAA's National Data Buoy Center:
Physorg.com: The latest Science and Technology news.
Obituary: Albert Peter Angelone: "Angie" Angelone passed away on July 29, 2006 - he will be missed by his family and the many friends who knew him from the beaches of Martha's Vineyard.
American Casting Association: Sponsors of the ACA National Casting Tournament, and promoting excellence in casting nationwide.
Flyage.net: FlyFishing Magazine Italy.



Aquatic-gardeners.org: The Aquatic Gardeners Association online!
E-Z Body Tubing - learn to tie some very cool flies with this excellent, flexible tubing.

Saltwater Flies, Patterns and Articles from other websites
Conservation