Home | Saltwater Flies | Fly Tying Materials | Saltwater Fly Fishing Accessories
Ordering Instructions, Shipping rates, Your Satisfaction Guaranteed | Site Map
WINDRAM'S CINDERWORM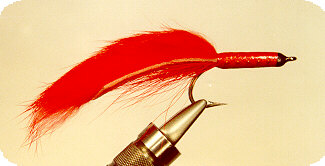 Welcome to the third edition of the SaltwaterFlies.Com Fly Tying Theatre! In these pages we hope to bring you tying instructions for some of our favorite saltwater flies. Here are my instructions for making the Windram's Cinderworm.

Recipe:

Hook: Mustad 34007 or 34011; #1, 2, 4
Thread: 3/0 nylon; Red
Tail: Red rabbit fur strip, over mono loop, over red bucktail
Body: Red Gill E-Z Shape Sparkle Body over thread base
Head: Sparkling Black or Pure Black E-Z Shape Sparkle Body
STEP 1
Tie in a clump of red bucktail, and lash the butt ends of the hair all the way to the hook eye. I like to use the burgundy colored hair from the center of a dyed red bucktail.
STEP 2
Tie in a loop of heavy monofilament (20# Mason is good) on top of the bucktail at the bend of the hook. This will provide a support for the rabbit fur strip tail.
STEP 3
Tie in a strip of red rabbit fur that is a little longer than the hook itself (approximately two inches is a good length). This material has a fantastic swimming action in the water.
STEP 4
Build up an underbody with the thread. The underbody should be at least one-eighth to three-sixteenths of an inch thick. This will provide a base for the coating of E-Z Shape Sparkle Body.
Remember to print out this page to take with you to your vise.