Home | Saltwater Flies | Fly Tying Materials | Saltwater Fly Fishing Accessories
Ordering Instructions, Shipping rates, Your Satisfaction Guaranteed
Saltwater Flies Mainpage | Chris Windram's Saltwater Fly Museum
Snapping Shrimp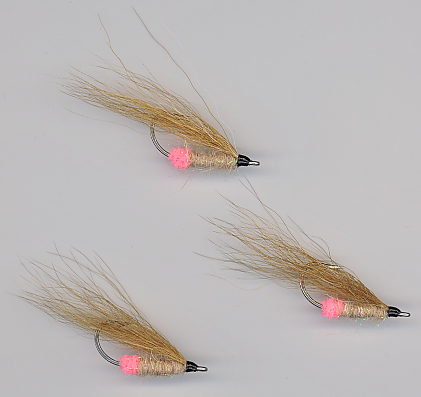 The Snapping Shrimp is a classic bonefish fly. Useful for delicate presentations in ultra-clear, shallow water situations, the unweighted design of this traditional bonefish fly makes it a must-have pattern for all bonefish boxes... Spooky bones will sometimes shy away from the "plop" or splash that so many weighted bonefish flies produce, so be sure to take some unweighted flies like this one when you hit the flats.
"Pink Butt" shown above; "Green Butt" pictured below. Click the photos to see a separate size reference photo.

COLORS:				SIZES: 2, 4		$4.15/ea

Snapping Shrimp #2 
Brown/Tan (Pink Butt)	Add to Cart
Brown/Tan (Green Butt)	Add to Cart

Snapping Shrimp #4 
Brown/Tan (Pink Butt)	Add to Cart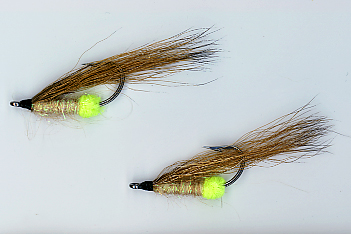 The #2 Snapping Shrimp measures approximately 2 inches long (5.5 cm), the #4 fly is about 1 5/8" long.
---
Note: All of the Saltwater Flies that we sell are handcrafted items - some small variations in size, color, or shape from the flies pictured here are possible. We guarantee your satisfaction with any fly purchased from us - if any fly you order from us does not meet your expectations, you may return it (unfished!) for a full refund.
---




TIGHT LINES!
P.O. BOX 362, HOUSATONIC, MA 01236
413 274-6143 * Fax 413 274-0145


SaltwaterFlies.com - Got Backing?

We can help you to choose a fly selection for your needs.
E-mail us at cwindram@SaltwaterFlies.Com.

[Back to the Fly Navigation Page] [Wade Back to the Home Page]