Home | Saltwater Flies | Fly Tying Materials | Fly Lines & Accessories
Ordering Instructions, Shipping rates, Your Satisfaction Guaranteed | Site Map
The Windram "One Fly"
© 1998 By Chris Windram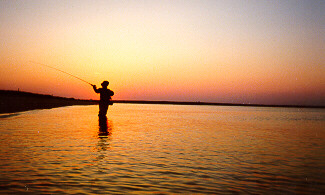 Martha's Vineyard in June is a wonderful place to be. As water temperatures around this island begin to warm, striped bass move in to spend the season feeding in the rocks, rips, and estuaries that abound in Vineyard waters. Air temperatures, too, are rising, and on warm spring evenings, fly rodders gather on island beaches to cast their lines into the salt.
One spring evening in late June has become host to a yearly event, the Martha's Vineyard Striped Bass Fly Rod Catch and Release Tournament. This is not a money game - the tournament is organized by the MV Rod and Gun Club to promote the conservation of striped bass, and to bring anglers together to share the magic that is striped bass fishing. The prizes that are given away are awarded by random drawing, and anyone who enters and fishes in the tournament can win one of the nice reels, fly boxes, or other prizes. There are, however, several trophies awarded at the end of the tournament; the Roberto Germani Trophy for the most striped bass caught and released by a team, the Sonny and Joey Beauliea Trophy for the largest striped bass caught and released, and in 1996 a new trophy was awarded; the Arnold Spofford Trophy for the most stripers caught and released by a team using one fly.
This is the story of the Sparkling Sand Eel, the fly that I used to win the One Fly division of the 1996 Martha's Vineyard Striped Bass Fly Rod Catch and Release Tournament. My partner for the evening was Matthew Grallert of Vineyard Haven, an islander and an excellent fisherman. At the meeting that takes place in the afternoon before the tournament, we discussed strategies for flies. We both would need a fly that was durable, attractive to the fish, and one that we could work comfortably for the duration of the tournament, which lasts from seven o'clock in the evening until two o'clock in the morning. During those seven hours our flies might be pounced on by stripers, ravaged by bluefish, beat against beaches or rocks when our backcasts faltered, and generally abused in the way of all saltwater flies that are fished from the tidelines.
Matt chose for his fly a kind of deceiver of his own making and embellished with elements of his own design. This fly he laced with epoxy and super glue, and ( I suspect ), every other substance known to fly tiers in order to strengthen his fly, and enhance its durability. I chose as my ace in the hole a fly made from a new material, E-Z Shape Sparkle Body. E-Z Shape Sparkle Body is a tough, resilient, and flexible body coating for saltwater flies, and I put my faith in it because I believed it to be more durable than anything else I had used before. I chose a sand eel for the pattern, because I knew that the bass were feeding nightly on sand eels on the beaches on the northwest corner of the island.
If we had found stripers feeding on anything but sand eels that night, my fly might have gone untouched or unnoticed by the bass. As luck would have it, however, we found the sand eels, and we also found the bass. Matthew and I worked quite hard that evening to catch fish, and even anglers fishing near us did not fare quite as well. The fish were not large, but together we caught and released a fair number of them. At two o'clock in the morning, we examined the flies that we had chosen as our "one fly".
Matt's fly was a remnant of thread, and a hackle or two still clinging to the hook. The Sparkling Sand Eel wasn't much better off, but it still had a wing , and a body, and was still recognizable as a sand eel imitation. I kissed the fly, and stuck it into the cork grip of my rod, and we reeled up our lines. Together we had caught and released forty-two striped bass, and at the awards ceremony the next day, we found out that we had taken first place, and won the Arnold Spofford trophy.
Editor's Note: Matthew Grallert also took first place with his partner in the 1998 One Fly division! Congratulations, Matt!
Sparkling Sand Eel Tying Instructions
Check Out Our Other Fly Fishing and Fly Tying Articles
[Go to the Tying Materials Catalog] [Fly Selection Page] [Home Page]