Home | Saltwater Flies | Fly Tying Materials | Saltwater Fly Fishing Accessories
Ordering Instructions, Shipping rates, Your Satisfaction Guaranteed
Saltwater Flies Mainpage | Chris Windram's Saltwater Fly Museum
Enrico's Mantis Shrimp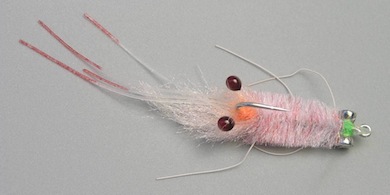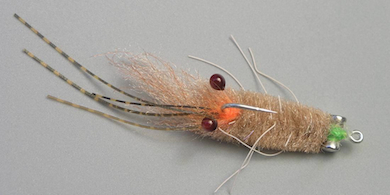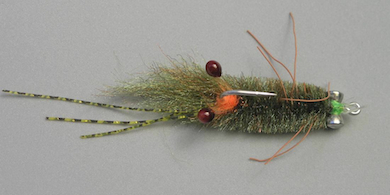 Enrico's Mantis Shrimp is one the sweetest crustacean patterns that we have ever seen. Mantis shrimps live in a variety of habitats worldwide, in both shallow water, and deep. Though primarily a bonefish and permit fly, Enrico's Mantis is also perfect for other fish that feed near the bottom, including redfish, seatrout, striped bass, and more. Both lead eye and bead chain eye versions are available to cover a variety of water depths, and this fly is tied in four color schemes for fishing over a variety of bottom types. This fly features sparkly fibers, but no flash, and this makes it a perfect choice for fishing in areas where fish have seen a lot of brighter flies. Enrico's Mantis Shrimp features a great-looking set of crustacean eyes, and a monofilament weedguard. This is another "buggy" pattern that can double very well as an imitation of a small crab, and warmwater fisherman should take note that this has been an excellent crayfish imitation for large and smallmouth bass. The "Lead Eye" version is pictured above - the colors listed below are shown in clockwise order in the photos above, starting at top left. Click the photos to see the flies close-up.
Note that Enrico has changed the style of this fly slightly - the original version had a fairly flattened profile as shown in the photos - more recent batches have a more cylindrical shape - also very nice.

COLORS:

Enrico's Mantis Shrimp (w/Lead Eyes) $6.99/ea

#2 Pink		Add to Cart
#2 Tan		Add to Cart
#2 Olive	Temporarily out of stock


Enrico's Mantis Shrimp (w/Bead Chain Eyes) $6.99/ea

#2 Pink		Add to Cart
#2 Tan		Add to Cart
#2 Olive	Add to Cart

#1/0 Tan	Add to Cart


---
The #2 Enrico's Mantis Shrimp measures approximately 2 3/4 inches long (7 cm); the #1/0 fly measures approximately 3 1/4 inches (8 cm) long. Similar patterns: Enrico's Ascension Bay Crab and Mantis Shrimp, Veverka's Mantis Shrimp, Enrico's Spawning Shrimp. The "Lead Eye" version is heavier than the "Bead Chain Eye" version. Here are photos of the "Bead Chain Eye" version: Pink, Tan, Olive. Tied by Enrico Puglisi LTD.
---
Note: All of the Saltwater Flies that we sell are handcrafted items - some small variations in size, color, or shape from the flies pictured here are possible. We guarantee your satisfaction with any fly purchased from us - if any fly you order from us does not meet your expectations, you may return it (unfished!) for a full refund.
---




TIGHT LINES!
P.O. BOX 362, HOUSATONIC, MA 01236
413 274-6143 * Fax 413 274-0145


SaltwaterFlies.com - Got Backing?

We can help you to choose a fly selection for your needs.
E-mail us at cwindram@SaltwaterFlies.Com.

[Back to the Fly Navigation Page] [Wade Back to the Home Page]