Home | Saltwater Flies | Fly Tying Materials | Saltwater Fly Fishing Accessories
Ordering Instructions, Shipping rates, Your Satisfaction Guaranteed | Site Map
WINDRAM'S SPARKLING SHRIMP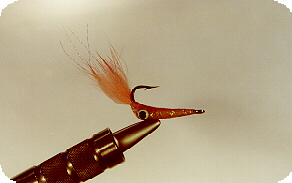 Welcome to the fourth edition of the SaltwaterFlies.Com Fly Tying Theatre! In these pages we hope to bring you tying instructions for some of our favorite saltwater flies. Here are my instructions for making the Windram's Sparkling Shrimp.

Recipe:

Hook: Mustad 34007 or Tiemco 811S; #4 or 6.
Thread: Danville Flymaster Plus; pink.
Tail: Rabbit fur; pale pink.
Flash: Krystal Flash; Gray Ghost.
Eyes: Lead eyes, prepainted, size x-small for #4 hook; size mini for #6.
Body: E-Z Shape Sparkle Body; Shrimp Pink.
Color Variations: Sand (Tan), Pearl, Olive.

STEP 1
Tie in the thread at the center of the hook shank. Lash the thread halfway down the hook bend, then back to the end of the shank.
STEP 2
Tie in a clump of pink rabbit fur on top of the hook shank. Lash this fur halfway down the hook bend. This will help the fly to swim with the hook point up.
STEP 3
Tie in four strands of Krystal Flash on top of the rabbit fur. Trim these twice as long as the rabbit fur tail.
STEP 4
Tie in a pair of lead eyes at the end of the hook shank, just before the bend. Make sure that the eyes are tied in securely.
Remember to print out this page to take with you to your vise.