Home | Saltwater Flies | Fly Tying Materials | Saltwater Fly Fishing Accessories
Ordering Instructions, Shipping rates, Your Satisfaction Guaranteed | Site Map
WINDRAM'S SPARKLING SHRIMP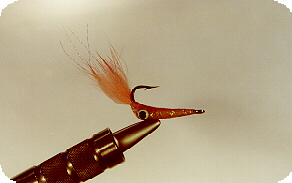 Anglers who fish for bonefish know that bones love shrimp. Redfish, seatrout, tarpon, and snook also prey heavily upon shrimp, but small shrimp imitations come into their own on the flats, where the wily bonefish prowls in search of a variety of prey.
The Windram's Sparkling Shrimp is an impressionistic pattern designed to imitate the appearance of a fleeing shrimp. Tied in a variety of colors to match the bottom coloration, this fly is designed to produce a swimming and wobbling action when retrieved. This presentation attracts bonefish and entices them to strike. The swimming action is produced by a flattened surface on the bottom of the fly (correctly tied, the fly fishes hook point up). The body of the fly is created using E-Z Shape Sparkle Body, a material which coats the fly to make it more durable, and more attractive to the fish.
This Sparkling Shrimp pattern has proven its effectiveness in a variety of locations, including the Bahamas and the Florida Keys. Anglers in the Bahamas have used both the Pink and the Sand color with great success. David Kreshpane, of Black Ghost Outfitting in Marathon, Florida ties a similar fly which he claims has even attracted the attention of permit, a notoriously difficult and suspicious fish.
I designed the Windram's Sparkling Shrimp to be both simple and effective, and anyone tying this pattern should find that it is not difficult to tie. Unlike some other patterns which incorporate many steps and materials, the Sparkling Shrimp is a fun and easy bonefish fly which anyone can learn to tie in a short period of time. Adding the Windram's Sparkling Shrimp to a fly box filled with traditional patterns can help to ensure that you'll always have a well-rounded and effective selection of bonefish flies.
---
More Fly Tying Articles and Instructions
E-mail us at cwindram@SaltwaterFlies.Com!
[Proceed to the Tying Instructions] [Wade Back to The Home Page]