Home | Saltwater Flies | Fly Tying Materials | Saltwater Fly Fishing Accessories
Ordering Instructions, Shipping rates, Your Satisfaction Guaranteed
Saltwater Flies Mainpage | Chris Windram's Saltwater Fly Museum
Christmas Island Special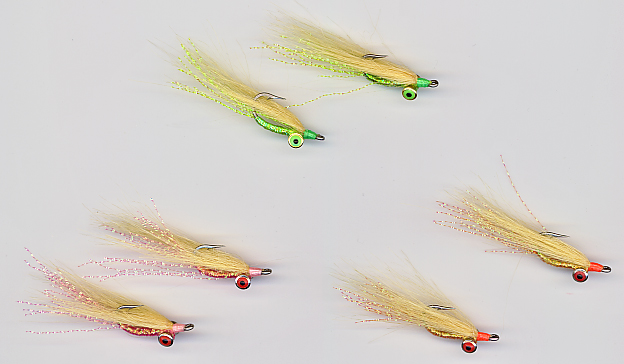 This modern bonefish pattern has quickly become a standard for anglers targeting bonefish in a wide variety of locations worldwide, and it is a key pattern for Christmas Island and other South Pacific destinations. Featuring small weighted eyes, the Christmas Island Special is slightly heavier than many bead-chain weighted flies, helping the angler make effective presentations in moderate winds and medium-depth flats, and adding to the fly's action, making it attractive to agressive bonefish in more remote, lightly-fished locations. See below for size & color reference photo.

COLORS:				SIZES: 6
Christmas Island Special $5.49/ea
Chartreuse #6	Add to Cart
Pink #6		Add to Cart
Orange #6	Add to Cart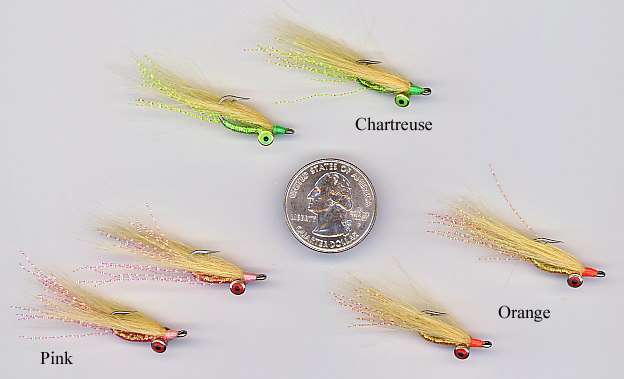 The #6 Christmas Island Special measures approximately 1 3/4 inches long (5 cm). Similar patterns: Bonefish Scampi, Gotcha.
---
Note: All of the Saltwater Flies that we sell are handcrafted items - some small variations in size, color, or shape from the flies pictured here are possible. We guarantee your satisfaction with any fly purchased from us - if any fly you order from us does not meet your expectations, you may return it (unfished!) for a full refund.
---




TIGHT LINES!
P.O. BOX 362, HOUSATONIC, MA 01236
413 274-6143 * Fax 413 274-0145


SaltwaterFlies.com - Got Backing?

We can help you to choose a fly selection for your needs.
E-mail us at cwindram@SaltwaterFlies.Com.

[Back to the Fly Navigation Page] [Wade Back to the Home Page]